This summer is all about firing up the grill and we're taking notes from two of our favorite food bloggers! We've combined Elise Bauer's Grilled Cilantro Lime Chicken and Erin's Mango Lime Grilled Chicken to create one truly delicious summer recipe.
---
Fun Tip: The leftover lime, mango, and cilantro can make a kick -butt summer salad when paired with avocado.
---
Ingredients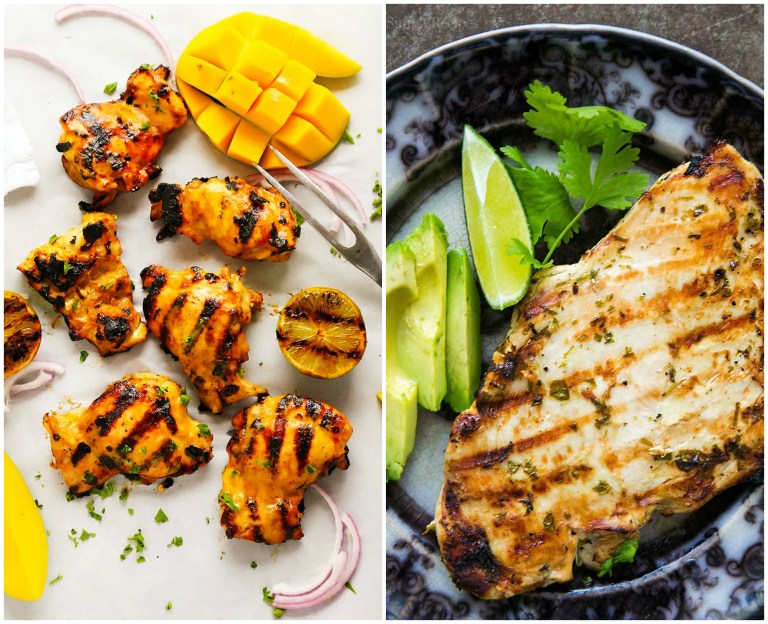 2 pounds skinless, boneless chicken breasts
2 Tbsp olive oil for the marinade plus more for grilling Grated zest from
2 limes Juice from 2 limes, about 1/4 cup
1/2 cup cubed mango
1/4 cup chopped cilantro
1 Tbsp Sriracha
1/2 teaspoon sugar
1/2 teaspoon salt
1/4 teaspoon black pepper
Lime wedges, fresh sprigs of cilantro, and slices of mango to serve
Directions
1. Pound chicken breasts to even thickness: Place the chicken breasts between two piece of plastic wrap or wax paper and pound to an even thickness with a meat mallet.
2. In a blender, blend together the olive oil, lime zest, lime juice, mango, cilantro, sriracha, sugar, salt and pepper together. Add the chicken and massage the marinade into the chicken. Cover and chill for at least 30 minutes or marinate over night.
3. Preheat grill to a medium heat.
4.Remove the chicken breasts from the marinade and pat them dry with paper towels. Coat the chicken breasts with some olive oil. Soak a paper towel in a little more oil and use tongs to wipe the grill grates. When the grill is hot, place the chicken breasts on the grill. Grill for a few minutes on each side, until cooked through.
5. Add the fresh lime, cilantro, and slices of mango to the plate and serve your Grilled Cilantro Lime Mango Chicken!